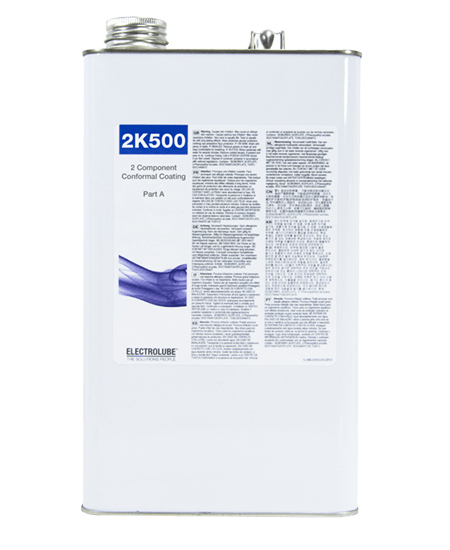 2K500
Two Part Abrasion and Chemical Resistant Conformal Coating
Abrasion resistant and optically clear two part conformal coating which combines the best properties of a resin with those of a conformal coating. Ideal for LED applications.
Product Codes
2K5005L - 5L Part A

Product Description
2K500 abrasion reisitant conformal coating is a hard, two-part polyurethane conformal coating system which provides the best protection properties of an encapsulation resin, with the ease of application of a conformal coating. It can be easily applied to provide excellent edge coverage, even areas with difficult geometries, this allows the highest levels of protection even in harsh environments.  2K500 is optically clear and maintains this clarity even after prolonged exposure to UV light making it a good choice to protect LED boards. It is also more abrasion resistant than 2K300  so it more suited to exposed applications.
As with the other 2K range of conformal coatings 2K500 is a hydrophobic coating which gives excellent water and moisture protection including salt mists making it an excellent choice for automotive electronics as well as other tough outdoor applications. Read our Article on comparisons verses traditional coatings for more info.
2K500 is applied using selective coating machines from PVA (using VPX-2KS) and Nordson Asymtek (using the latest in the AM range).
*Two Part System requires 2K500 as Part A and 2kpb0 as reaction agent, please refer to the product TDS for recommended mix ratios.
Key properties
Two-part conformal coating
Wide operating temperature range
Good abrasion resistance
Excellent thermal shock performance
Maintains good clarity even when exposed to UV light
Excellent coverage, even over difficult geometries
IPC-CC-830 Approval
Meets BMW Group Standard requirement GS95011-5
REACH Compliant & RoHS Compliant